(07-10-2009, 01:21 PM)

yamiko Wrote: [ -> ]I'm still worried about the merch issue, for autographs I don't want to waste time waiting in line just to be in front of hyde and kaz with nothing for them to sign D: has anyone gotten official word if there will be stuff for sale at the meet and greet?

also what if some people enter for the 6pm show then try to sneak over to the room the vamps will be playing at and wait there for the show? is that possible? (not saying I would do that, just wondering if that could happen cause it would be terrible if it did xD)
I'm also worried about the fact that Sonar says only ticket holders can get in, but the will call window doesn't open til that night.
I would HOPE they would sign copies of Faith. It's not like you're asking KAZ to sign 666.
Do you think they'll let us snap a quick pic with the band? (with them still behind the table, of course)
Kinda like this: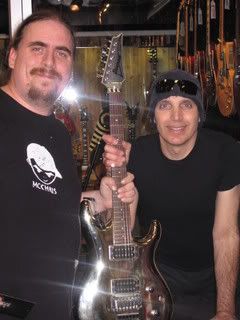 (I'm the one who's not Joe Satriani)