Project: EAST COAST LOVES VAMPS!
(name subject to change if we come up with something more witty)
In case you haven't heard the news, VAMPS IS COMING TO AMERICA! Not only that, but the east coast is getting some love~!!!
Last time Hyde was in America in 2006, he only went to California. But this time around, the other side of the country is getting some love.
New York, Connecticut, and Maryland. 4 shows, 3 states, TONS OF FANS!
This is a project to thank VAMPS + their staff for coming not only to America, but to the east coast!
We are going to make a fan book (think: scrapbook or sketchbook) for them ENTIRELY WHILE WE WAIT IN LINE!! This will be done on the spot, right there while we all wait together in the hot July sun, waiting to go inside and finally see Hyde & K.A.Z. right in our own backyards.
How is this going to work?
Pretty simple. I will have a book full of blank pages and bring it with me to each of the east coast shows. (Yes, I will be going to all 4 of them - New York, Hartford, Columbia, and Baltimore.) I'll go up and down the line, asking fans to write a message to the band, draw a picture, make a design, WHATEVER YOU WANT!
This is a book from US, THE FANS!
You can also come and find me - more details on that as the date approaches, but I go by
"Missy"
and will hopefully be near the front of the line. I'll have signs made too, don't worry, you'll be able to find me. :)
So. Like I said, all of this will be done by us, the fans,
while we wait in line
. (If you are not attending any of the shows, but want to do something, please check out the
Vamps Street Team MySpace.
There is a fanbook project going on over there as well - from fans all over, whether you are attending a show or not!)
**The size of the book is going to be 8.5x11 inches. KEEP THAT IN MIND.**
What can you do in advance?
Have an idea of what you want to say, or draw. You can print out pictures to tape into the book - I will have tape, glue, all the works with me. This book I am making will also have some pockets, so if you want to bring something to stick in, go for it. Please keep in mind though, THIS IS A BOOK and 3D things will only go so far. Bringing colorful paper - origami paper, scrapbooking paper if you have it, anything printed out - magazine images, etc. Whatever!
You can also bring supplies
- think sharpies. Sharpies, markers, crayons, ARTS AND CRAFTS TIME!!! Please please please, if you do have any markers/sharpies ANYTHING to draw or color with, bring it if you can! We'll need this book to be as colorful as possible. I will be bringing a rainbow pack of sharpies, and markers, and crayons. I want to bring some paint as well, but that might get a bit messy... (unless you all don't mind - then paint it is. XD)
...too much for you to read? Confused?
(It's okay, all that text would scare me too.)
This is a visual example I have in mind:
(I did this in my high school portfolio class - we critiqued pieces, sketched, drew, painted, etc. in our book - whatever we were feeling at the moment, it went to paper.)
Painted on cover.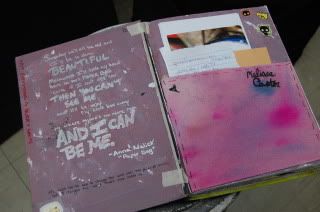 Lyrics on the front cover, maybe? A poem? Something?
Pocket to put stuff in!!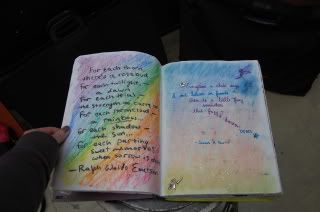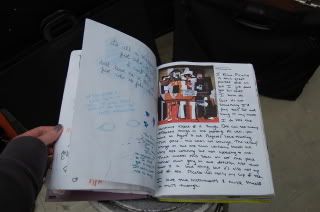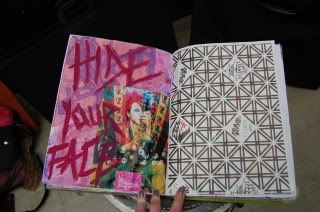 (Hello, hide, lol!)
BLANK PAGES! We don't want any of those!! Dx
Back cover!
Colorful!!!
PLEASE LET PEOPLE KNOW ABOUT THIS!
I want as many fans to particpate as possible! It won't be as colorful/amazing without all of your help. :)
If you need to contact me:
here on the VAMPS USA forum - missykitty - send a PM
JrockRevolution.com forum - missykitty
LiveJournal - missykitty0115.livejournal.com
E-mail - missykitty0115[at]yahoo[dot]com
(Do we see a pattern? I think so.)
I almost forgot to mention!
This project will also be documented.
I'm a shutterbug, seriously, so I will be photographing everything and everyone. (Maybe even video?!) At the end, I will make a post to show you all how the book turned out. :)
***If anyone has a problem with me photographing them, and their image going online, PLEASE LET ME KNOW!!!***
Chances are I will take your picture and you will show up online. If that is a problem, let me know, I won't photograph you. Simple as that.
Also!
Any suggestions for a cover design?
I will most likely do that before the shows - paint something on.
If you have fan art, SEND IT TO ME and I can try and use that? If I use your fan art, you will be credited. (Anyone can send me fan art - you don't have to be coming to the shows. We just need a cool cover. 8D)
TD;LR:
East Coast Fan project. While we wait in line, write messages/draw in a book. Get fans from each east coast show to participate. Give it to VAMPS in Baltimore, on July 16th. Show our love, and thank them. MISSION COMPLETE!
P.S. BRING ANY MARKERS/CRAYONS/COLORED DRAWING UTENSILS
to help out!! I only have so many, and they will only last so long.
This post subject to many edits.
THANK YOU FOR YOUR TIME, AND HOPE TO SEE YOU AT AN EAST COAST SHOW THIS JULY!!!
Missy!